Oceanfront Condos
Myrtle Beach
North Myrtle Beach

Oceanfront Condos
Bay Watch Resort: North Myrtle Beach, SC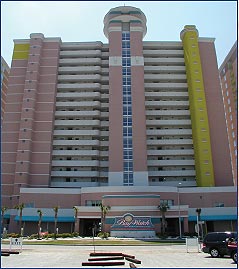 There's no time like the present to invest in a South Carolina condominium such as Bay Watch Resort in North Myrtle Beach. Just ask Tim Thomas, a sales associate for CondoLux and one of the Grand Strand's leading investment property professionals.
We're half as much (price-wise) as the Florida market, and Myrtle Beach is still a lot less expensive than Hilton Head or anywhere else on the coast, he says.
In the past several years, Thomas notes, he has seen profits on condo resales hit an amazing 30 percent a year.
There will always be a market for beautifully designed condos on the ocean, and Bay Watch fits that description to a tee. Located in the Crescent Beach section of North Myrtle Beach, the three spectacular 18-story towers offer a variety of options for homeowners and investors. One-bedroom units start in the $200,000s, while two-bedroom units sell for $400,000 to $500,000. Three bedroom condos are priced between $500,000 and $600,000.
The wide-ranging amenities make Bay Watch very much the resort its name promises. The complex has it all and then some: two ocean-front restaurants, two indoor pools, three outdoor pools, indoor and outdoor kiddie pools, indoor and outdoor lazy rivers, a fitness center, a game room, a sports bar, outdoor tiki bars and even a small convenience store.
And right outside your door are all the recreational opportunities that the Grand Strand has to offer world-class golf, sun-soaked beaches, fabulous family-oriented entertainment venues such as Broadway at the Beach, terrific shopping and some of the best seafood restaurants in the Palmetto State.