Finance and Investment

Jonathan Messimer, MetLife Home Loans
Keeping Home Financing Simple
Let Professional Experience Work For You
By Stacy Domingo
Jonathan Messimer
Certified Mortgage
Planning Specialist
®
MetLife Home Loans, a division of MetLife Bank, a wholly-owned subsidiary of insurance giant MetLife, Inc., serves a wide range of home buyers by offering a variety of options, including fixed and adjustable rate loans, flexible products for first-time home buyers, FHA and VA loans, reverse mortgages, jumbo products and loans for second homes and investment property.
While MetLife Home Loans is a relatively new member of the MetLife family, it has grown quickly to become the 10th largest residential mortgage loan provider in the country. "MetLife Home Loans shares the core values of the MetLife family," explains Jonathan Messimer, mortgage consultant for MetLife in the Grand Strand and surrounding areas of South Carolina. "These values include conducting business with sincerity, truth and fairness."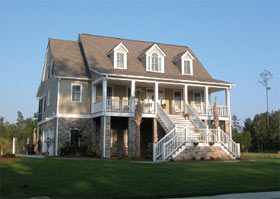 Because one of MetLife Home Loans' goals is keeping the home financing process simple, mortgage consultants are on hand to recommend options that fit personal goals and preferences. Just as important, they guide consumers through each step of the loan process, including local processing, underwriting and closing.
"You'll enjoy real peace of mind knowing that your home's financing is backed by a major corporation with a history of over 140 years of strength and stability," Messimer says. "This success allows MetLife Home Loans and MetLife Bank to help buyers obtain financing over and beyond the conforming limit of $417,000 set forth by Fannie Mae and Freddie Mac."
MetLife also has created Builder's Choice, developer and builder programs that offer extended rate locks, internal approval for condominium projects, SpecMover® and new construction discounts.
Extended rate locks allow home buyers to cap their interest rate for up to 360 days, and, if rates fall, float down options are available within 60 days of closing.
Builder's Choice offers assistance with documentation for Fannie Mae, Freddie Mac, FHA and VA loans for condominium projects.
SpecMover® is a financing program that features lower interest rates for spec home buyers for up to 180 days.
Developers or builders approved with MetLife Home Loans can provide special incentives to their home buyers, such as lender-paid closing costs, temporary or permanent rate buy-downs, FHA interest abatement and green energy savings.
The home equity conversion mortgage, also known as a reverse mortgage, is backed by the Federal Housing Administration with a current loan limit of $625,500. The HECM for Purchase product can help senior clients buy a new home without taking on monthly mortgage payments.
Further, jumbo products consist of 30-year and 15-year fixed rates, five-year, seven-year and 10-year ARM rates and interest-only options up to $2 million for primary and second homes.
With the ability to lend in all 50 states, MetLife Home Loans has mortgage consultants and offices throughout the United States.
For further information on MetLife Home Loans, contact Jonathan Messimer, CMPS®, mortgage consultant, at (843) 213-3585, or visit www.jonathanmessimer.com.